Where we are
The B&B "The Ancient Seat" is found in a very strategic location, in the heart of the ancient greek-roman city, between "porta Capuana", the ancient entrance to the city from Rome and the cathedral, with the treasure of Saint Gennaro. With a very short walk you can reach the major monumental and shopping area: Saint Gregorio Armeno, with its traditional Christmas cribs, the church of Sain Lorenz, S.Chiara church with its majolica tiles cloister, the chapel of S.Severo, the new museum of contemporary art "Madre" and the archaeological national museum.
The historic centre of Naples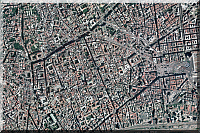 click on the image to view larger and to access the pictures gallery
Legend: 1 - Vico Sedil Capuano; 2 - Piazza Garibaldi; 3 - Duomo; 4 - Castel Capuano; 5 - Museo Archeologico Nazionale; 6 - Chiesa Santa Chiara; 7 - Chiesa Gesù Nuovo; 8 - Piazza Nicola Amore; 9 - Piazza Mercato; 10 - San Domenico Maggiore; 11 - Via San Gregorio Armeno; 12 - Napoli Sotterranea; 13 - Porta Nolana; 14 - Piazza Cavour (Fermata Metro); 15 - Porta Capuana; 16 - Piazza Dante.
---
How to reach us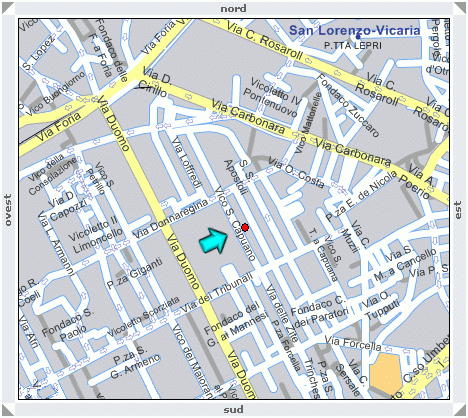 click on the image to view larger with in red the pedestrian route from the Piazza Cavour / Museo undergound stop (right mouse button to download, 730Kb)
or, arrive at Vico Sedil Capuano 16 - Napoli with
Underground
take Line 2 to Piazza Cavour, once out, in 50 meters you reach Via Duomo, then via Donnaregina, take the first street on the right and after 30 meters you will call to the entryphone.
Train
from central railway station in Piazza Garibaldi you can take a public bus to via Duomo.
Plane
from Naples Terminal catching a taxi or a bus Alibus (3 euro), descend in Piazza Nicola Amore and you are in via Duomo.
Taxi
We'll provide you the telephone number to call a taxi company that has an arrangement with us and you will pay a fixed price, independently from the taximeter:
- Airport to B&B L'Antico Seggio – 16 euro
- Train station (Piazza Garibaldi) to B&B L'Antico Seggio – 9,50 euro
- Port (Molo Beverello) to B&B L'Antico Seggio – 9,50 euro
Tell to the taxi driver the following direction: Vico Sedil Capuano n° 16 - Buzz Rovito-Vilardo.
Driving
from the speedway "Tangenziale" exit "Corso Malta", straighting on via Foria, at the third traffic lights on the left then the first on the rights...there you are..